Here is a list of what I'll be watching and/or DVRing during Week 02 of TCM's Summer Under The Stars (SUTS), the channel's annual tribute to one star per day for the month of August. Emphasis is on films I haven't seen yet and those increasingly rare rarities. Fun fact: I got hooked on TCM for good on Jean Gabin Day during the 2011 SUTS, so in a roundabout way, SUTS led to TCM Party. Picks for each day after the jump. As always, all times are Eastern.
Maureen O'Sullivan
Monday, August 08
I've never been one for the Tarzan movies, but I think it's safe to say they would not have been as successful as they were without Maureen O'Sullivan. She was born in Boyle, County Roscommon, on May 17, 1911, and was married to John Farrow from 1936 until his death in 1963. She was of course Mia Farrow's mom and had the brilliant middle name Paula (it's such a rare name, I have to take what I can get). I first encountered Ms. O'Sullivan as the grandmother in Peggy Sue Got Married (1986), and I won't lie, I'm not all that familiar with her earlier work, so today is going to be heavy on the new-to-me films.
9:15 a.m. Woman Wanted (1935) — O'Sullivan is a woman on the run with Joel McCrea, who is lookin' fine as a lawyer who is trying to help her. New to me.
10:45 a.m. The Devil Doll (1936) — Don't miss your chance to see Lionel Barrymore in drag.
1:45 p.m. Between Two Women (1937) — Seems kinda soapy and I love me some Franchot Tone. New to me.
5:00 p.m. Hold That Kiss (1938) — A model (O'Sullivan) and a travel agent (Dennis O'Keefe) fall in love, each thinking the other is wealthy. New to me.
12:00 a.m. The Big Clock (1948) — O'Sullivan isn't given much to do, but this noir starring Ray Milland as an overly-ambitious editor and Charles Laughton as his deranged publisher is a stone-cold classic. Don't miss it.
Beyond SUTS (sort of): O'Sullivan plays a memorable part in The Thin Man, airing on Myrna Loy Day, Monday, August 29, at 8:00 p.m.
---
William Holden
Tuesday, August 09
From Golden Boy (1939) to Network (1976), no one did bitter, cynical, world-weary sexiness quite like William Franklin Beedle Junior aka William Holden. Eddie Muller says Holden would have made the best Phillip Marlowe and I quite agree.
7:30 a.m. Meet The Stewarts (1942)
10:00 p.m. Dear Ruth (1947) — I'm looking forward to both of these new-to-me comedies.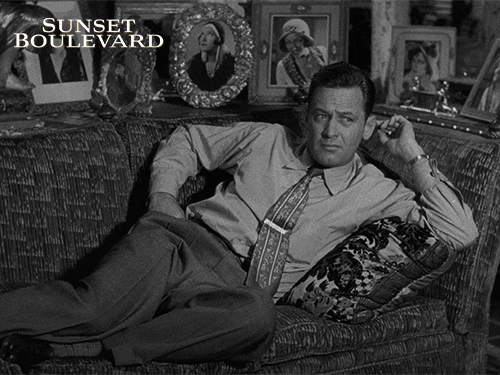 Holden 101
4:00 p.m. Born Yesterday (1950)
6:00 p.m. Executive Suite (1954)
8:00 p.m. Sunset Boulevard (1950) — This week's TCM Party
11:45 p.m. Network (1976)
Beyond SUTS: Stalag 17 (1953), The Bridge on the River Kwai (1957)
---
Greta Garbo
Wednesday, August 10
Everyone knows more about Garbo than I do. I'll be concentrating on today's silent films.
6:00 a.m. Gosta Berling's Saga (1924)
9:15 a.m. Torrent (1926)
11:00 a.m. A Woman of Affairs (1928)
8:00 p.m. Love (1927)
9:30 p.m. The Mysterious Lady (1928)
3:00 a.m. Wild Orchids (1929)
4:45 a.m. The Single Standard (1929)
Beyond SUTS (kind of): Grand Hotel (1932), scheduled for Saturday, August 20 (Joan Crawford Day) at 10:00 p.m., is one of my favorite true ensemble pieces.
---
Lawrence Harvey
Thursday, August 11
We all have those actors that have to grow on you, Harvey is one of mine. He was born Zvi Mosheh Skikne in Lithuania on October 1, 1928. He served in WWII and attended the Royal Academy of Dramatic Arts. He had a chilly persona that really worked in films like The Manchurian Candidate (1962, 8:00 p.m.).
8:00 a.m. The Good Die Young (1954) — A moody film noir, this one includes Gloria Grahame, Richard Basehart, Joan Collins, and John Ireland. New to me.
10:15 p.m. Walk on the Wild Side (1962) — "A side of life you never expected to see on the screen!"
Beyond SUTS: Look Back in Anger (1959) was one of the initial films of the British "kitchen sink" movement.
---
Jane Powell
Friday, August 12
Susan Lorraine Burce was known as the perennial girl-next-door but had a tough childhood and adolescence. Seven Brides for Seven Brothers (10:00 p.m.) ensured her permanent stardom.
6:00 a.m. A Date with Judy (1948) — Judy Foster (Powell) thinks her dad (Wallace Beery) is carrying on with a dancer (Carmen Miranda) and competes with a classmate (Elizabeth Taylor in her first teen role) for the affection of Robert Stack. It's just a charming picture. Stanley Donen directed the dance numbers.
8:00 a.m. Luxury Liner (1948) — A teenage aspiring opera singer (Powell) stows away on a cruise ship, captained by her widowed father (George Brent) so that she can meet a famous tenor. New to me (the rare Brent flick I haven't seen). They both had crushes on each other IRL but married other people.
2:00 p.m. Three Sailors and a Girl (1953) — Powell and Gordon McRae star and Roy Del Ruth directs a musical about three sailors backing a Broadway show featuring Powell.
---
Marlon Brando
Saturday, August 13
That's a part of the sickness in America, that you have to think in terms of who wins, who loses, who's good, who's bad, who's best, who's worst… I don't like to think that way. Everybody has their own value in different ways, and I don't like to think who's the best at this. I mean, what's the point of it?

Marlon Brando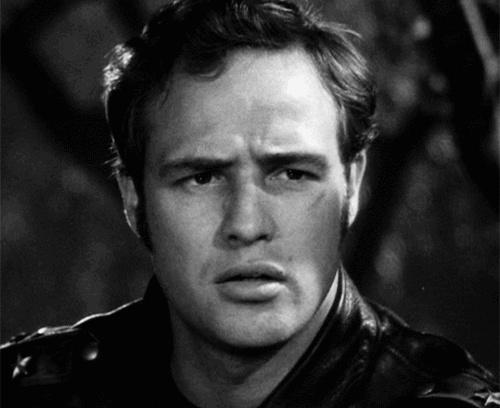 ---
Elizabeth Taylor
Sunday, August 14
It's easy to get distracted by the marriages, the scandals, the health problems…but she really is a very compelling actress, no matter what she's in, plus she raised millions of dollars for AIDS research.
1:30 p.m. Beau Brummell (1954) — Costume epic directed by Curtis Bernhardt with Dame Elizabeth, Peter Ustinov, and Robert Morley. New to me.
3:30 p.m. Cleopatra (1963) — I am always here for this insane flick. One of the best articles about the making of this film is here.
2:00 a.m. BUtterfield 8 (1960) — Taylor referred to this film as "Butterball 8," and said she thought she only won the Oscar for it because she almost died, but she really is very good in it.
Come back next week for SUTS Week 03 Picks (August 15-21). Week 01 picks are here. Week 04 picks are here.