Here is a list of what I'll be watching and/or DVRing during TCM's Summer Under The Stars (SUTS), the channel's annual tribute to one star per day for the month of August. Emphasis is on films I haven't seen yet and those increasingly rare rarities. Fun fact: I got hooked on TCM for good on Jean Gabin Day during the 2011 SUTS, so in a roundabout way, SUTS led to TCM Party. Picks for each day after the jump. As always, all times are Eastern.
Elvis Presley
Monday, August 01
No introduction is necessary for this man. I'll be looking out for these documentary/concert films.
6:00 a.m. This Is Elvis (1981) — I've never seen this documentary featuring four (!) actors portraying Elvis at different ages.
2:00 p.m. Elvis on Tour (1972)
10:00 p.m. Elvis: That's The Way It Is (1970)
Beyond SUTS: The Elvis '68 Comeback Special is everything.
---
Jean Arthur
Tuesday, August 02
A woman after my own heart, Jean Arthur was arrested in 1975 for trespassing on a neighbor's property to console an abused dog. Born Gladys Georgianna Greene in 1900 in Plattsburgh, New York, she was made for screwball comedy, and arguably she made the genre. The More The Merrier ((1943), 2:30 a.m. Weds) is Exhibit A. She avoided publicity and photographers as her career went on; by 1940, Life magazine reported, "Next to Garbo, Jean Arthur is Hollywood's reigning mystery woman." In 1944, when her contract with Columbia ended, she reportedly ran up and down the backlot streets yelling, "I'm free, I'm free!"
6:00 a.m. Seven Chances (1925) — If you blink you'll miss Ms. Arthur as Buster Keaton's receptionist in this super-classic silent film.
1:15 p.m. The Talk of the Town (1942) — Most of my mind wants to say this is an almost-scarily ever-more-relevant and hilarious social commentary. The rest is still processing "staying in the same house as Cary Grant and Ronald Colman."
4:30 a.m. Danger Lights (1931) — I'm really interested in Arthur's 1930s work. This was also the only film made with a 'wide stereoscopic' process that used 63.5mm film for greater depth of field and detail.
Beyond SUTS: I'm looking for Arthur's breakthrough film,The Whole Town's Talking (1935), and The Greene Murder Case (1929) and Street of Chance (1930), both with William Powell.
---
Sidney Poitier
August 03
…all the rules that said that Black actors play porters and have to be funny, [Sidney Poitier] just had no sense of that….He flew past all of those things that said: You can't play leads, you can't be romantic, you can't be wanted by white women. You can't be this. You can't be that. Because they weren't real to him. So since it wasn't real to him, all the rules were broken. But he didn't know that they were rules to be broken….he changed the whole way that film sees Black actors and actresses.

Lee Grant in The Hollywood Reporter
TCM has scheduled a rare (almost) chronological day for Sidney Poitier, beginning with Edge of the City (1957) and ending with Uptown Saturday Night (1974). These are the films I have not seen.
11:30 a.m. Band of Angels (1957) — This sounds like a godawful low-rent Gone With The Wind, complete with Clark Gable.
4:00 p.m. The Bedford Incident (1965) — No Way Out (1950) co-stars Poitier and Richard Widmark reunite for this still relevant Cold War tale about a journalist (Poitier) tagging along on a submarine to the dismay of its captain (Widmark). You just know they are going to run into some Soviets. I love that Widmark and Poitier were friends in real life, the idea of it just makes me happy.
8:00 p.m. A Warm December (1972) — Poitier directed and stars in this romance about a doctor who meets a mysterious woman in London.
Beyond SUTS: Widmark later starred for Poitier in 1982's Hanky Panky, with Gene Wilder and Gilda Radner.
---
Ruth Roman
Thursday, August 4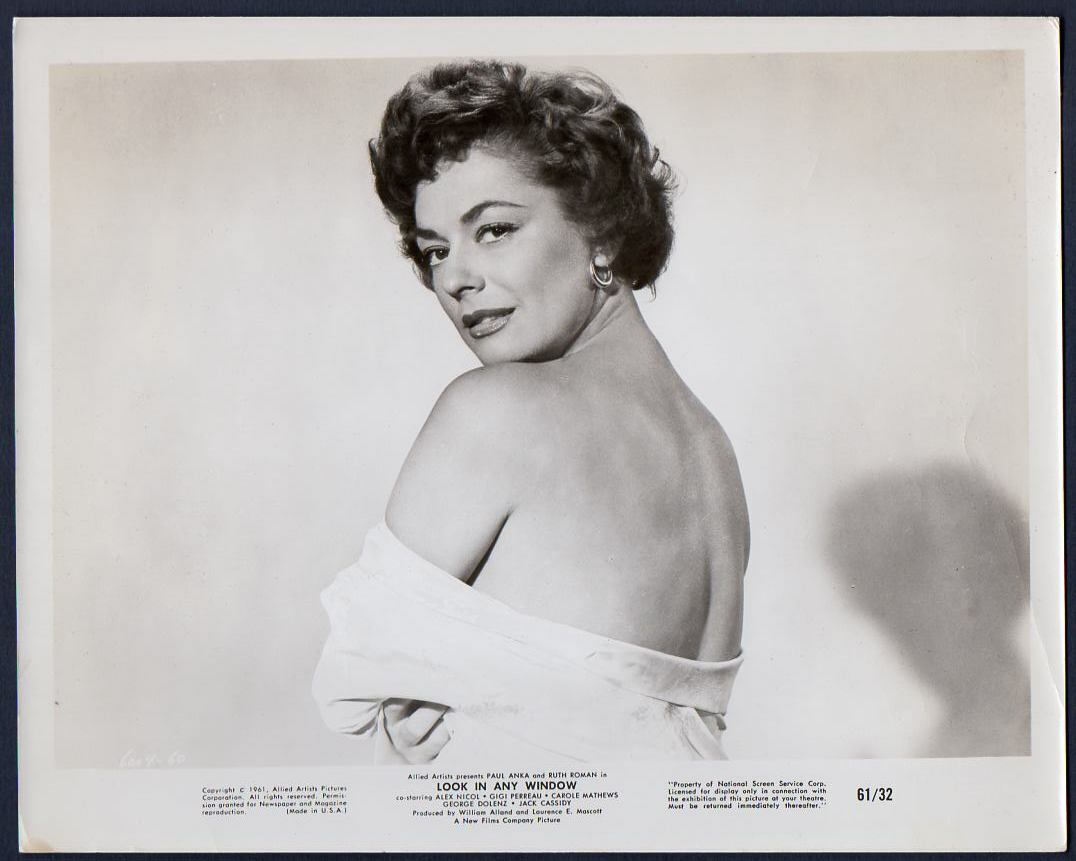 Sultry and wholesome by turns, Ruth Roman was born December 22, 1922, in Lynn, Massachusetts. Her father was a carnival barker who died when Roman was very young, and she grew up poor. Her first film role was a bit part in Stage Door Canteen (1943); for the next several years, her roles were uncredited and/or ended up on the cutting room floor. During the late 1940s, Roman lived in "The House of Seven Garbos" with Linda Christian and five other aspiring actresses.
8:00 a.m. The Window (1949) — Playing the wife of a murderous couple in this film made Roman a star. The taut 73-minute thriller was shelved by Howard Hughes when he took over RKO but was a commercial success when it was finally released, thanks partly to Roman, who suppressed her innate respectability for her memorable performance.
2:30 p.m. Mara Maru (1952) — Errol Flynn is always a draw for me, even late-career Flynn. Despite all his personal issues (substance abuse, weak heart, recurrent malaria, questionable morals), he was always a pro, and I'm interested to see how he and Roman got along. Behind the camera, this film has Gordon Douglas, the future director of Them! (1954), and Robert Burks, who went on to serve as the cinematographer on three of Alfred Hitchcock's '50s greats, Rear Window (1954), Vertigo (1958), and North by Northwest (1959).
6:30 p.m Look in Any Window (1961) — "The shades are open… and their morals are showing!" Paul Anka sings the title song and stars as a troubled teen peeping tom; Roman plays his mother. The plot seems like it inspired John Waters' Polyester (1981), and I'm always down for some campy drama.
10:00 p.m. Tomorrow is Another Day (1951) — Roman stars with Steve Cochran as a couple on the lam in one of my favorite noirs, a low-budget but nonetheless entertaining outing.
---
Orson Welles
August 05
If you want a happy ending, that depends, of course, on where you stop your story.

Orson Welles
An undisputed genius who loved cinema, hated hustling, and frustratingly self-sabotaged multiple times, Welles changed the medium forever. He took a lot of jobs to get money to make his movies, and no matter how cringe those projects might have been, he's always interesting to watch. You can't really go wrong on this day.
6:00 a.m. The Tartars (1961) — It's the Tartars (Welles) vs. the Vikings (Victor Mature) in this new-to-me epic. There was apparently no love lost between the two, due to a previous rivalry for Rita Hayworth's affections. Hoping it's so bad it's good.
10:30 a.m. The Eyes of Orson Welles (2018) — Welles' visual art gets the Mark Cousins treatment.
4:00 p.m. Confidential Report (aka Mr. Arkadin – (1955) — Convoluted and flawed but fascinating tale about a smuggler hired to investigate an elusive billionaire's past. Based on one of Welles' plots for The Third Man radio series. The international cast includes Michael Redgrave and Akim Tamiroff.
8:00 p.m The Third Man (1949) — You didn't really think I wouldn't watch this, did you?
2:00 a.m. Chimes At Midnight (1967) — Who could play Falstaff better than Welles? He served as the lead actor, writer, director, and costume designer.
Beyond SUTS: F For Fake (1973) is a trippy meditation on fraud and forgery, the spiritual predecessor to later documentaries like Art and Craft (2014).
---
Audrey Hepburn
August 06
I don't know what to write about her. She was a brilliant actress, a humanitarian, and a fashion icon, and just seems to have been a lovely person.
4:00 p.m. Paris When It Sizzles (1963) — I don't know how I've missed seeing this.
6:00 p.m. Charade (1963) — Probably one of my favorite films of all time. I have it on DVD and on the DVR at all times, just in case.
8:00 p.m. Roman Holiday (1963) — My favorite Audrey Hepburn performance of all time, so poignant.
10:00 p.m. How to Steal A Million (1966) — Just a lot of fun with fine-looking Peter O'Toole.
---
Gene Kelly
August 07
This year, I'm concentrating on Kelly's films with Judy Garland.
6:00 a.m. For Me And My Gal (1942) — Kelly's character isn't particularly likable in this film; he shamelessly uses his partner (Garland) and his best friend (George Murphy) to get ahead, and he's also a WWI draft dodger. It was Garland's first film with billing above the title, and she supported Kelly, the new kid on the MGM backlot, throughout the somewhat contentious production (Busby Berkeley was the director). However fraught, the film was a huge hit, and an enduring friendship was born.
2:00 p.m. The Pirate (1948) — Garland was suffering from ill health (post-partum depression was not recognized back then) and her addiction to prescription drugs, but director Vincente Minnelli, her husband at the time, and co-star Kelly got her through. The plot is completely ridiculous but Kelly makes a very fit swashbuckler.
6:00 p.m Summer Stock (1950) — Kelly's follow-up to On The Town (1949, 8:00 p.m.) was originally intended for Mickey Rooney, which I cannot imagine. Kelly had co-directed On The Town, which featured his innovative use of locations and modern dance, and he saw producer Joe Pasternak as too mundane. But he also knew that Garland needed help. Having been replaced by Betty Hutton on Annie Get Your Gun (1950), she was fresh out of rehab, not ready to work, and Summer Stock was her last chance at MGM. Reportedly Kelly helped keep her on her feet and even faked an injury on one or more of Garland's worst days so she could get some rest. No one would ever confuse the film's premise with reality, but it's a lot of fun, the two stars have real chemistry, and "Get Happy" is one of Garland's best scenes ever.
Beyond SUTS: In 1944, Kelly starred with Deanna Durbin in Christmas Holiday…a nasty little noir directed by Robert Siodmak and beautifully shot by Elwood "Woody" Bredell. It's a shocker, let me tell you, and worth seeking out.
Come back next week for SUTS Week 02 Picks (August 8-14).