We made it. As I type this, the 91st Academy Awards ceremony is happening. The Academy has a lot of work to do before the 92nd. There are three four tasks that, if completed, would save this august organization and revive its beleaguered ceremony…all is revealed after the jump.
I've been saying this for years — if you want more people to watch, move the ceremony to Saturday night. Most people who watch the show have to work in on Monday morning, so Sunday night prohibits viewing the entire telecast or live stream. I'm thinking particularly of high school teachers, many of whom are interested, but have to wake up at like 5:00 a.m., but it applies to plenty of others. Please, dear Academy, give them a chance to increase the ratings organically, without resorting to an assortment of dumbass concepts that you eventually have to walk back.
Find a new president. Although he sold out his own craft, John Bailey may not be solely responsible for everything that went wrong, just as a goalie losing a hockey game isn't solely responsible for a team getting blown out. And yet, when the goalie gets pulled, the team often wakes up and finds a way to win.
Find new sources of income other than the Oscars telecast…live stream…whatever. One of the reasons why those ratings are so crucial is that the Academy is set to open a $400 million museum this year. Maybe hit up some deep-pocketed parent corporations so you don't have to worry so much about ad revenue, and then maybe you can do a pay-per-view just for the hardcore movie lovers.
Outsource the In Memoriam reel to Turner Classic Movies (TCM). Seriously, this is a hot mess every year. On a personal note, my friend, actress/director/writer and #TCMParty sweetheart Vanessa Marquez, was left out, despite a petition and a campaign. So was Carol Channing, whose former publicist was told by someone at the Academy that "she wasn't all that important to the film industry, and no one in Hollywood really knows who she was." Stanley Donen was too, despite the fact that a clip from one of his films was used for Albert Finney…how difficult is it to drop another title in? Not very. TCM does the best memorial clip every year and I'm sure they'd do a respectful job.
Other thoughts…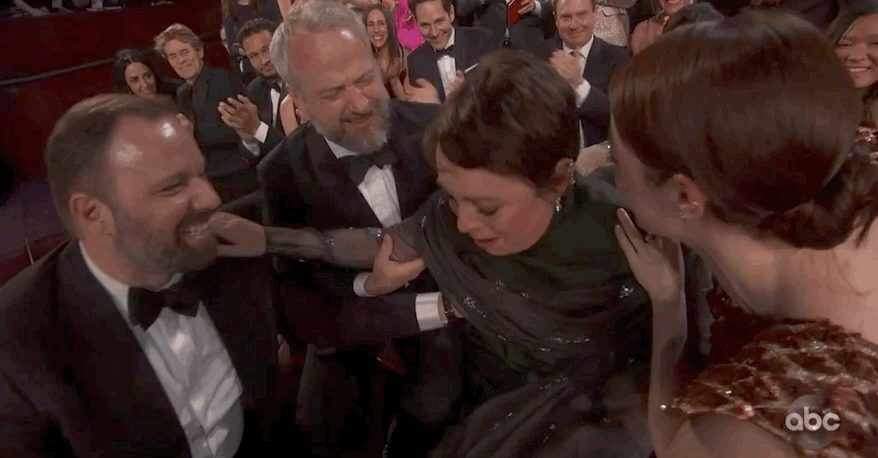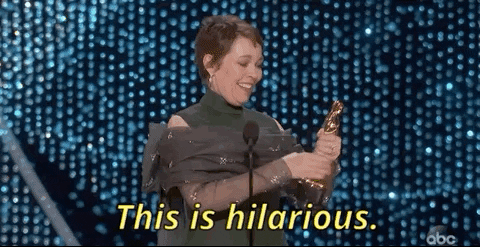 In contemplating this year's nominees, I realized I'm okay with the "cumulative Oscar." Glenn Close has been nominated for Best Actress a whopping seven times, and, as I write this, has never won. That could change in like 15 minutes. The Wife may not be the best thing she's been nominated for, but she's the best thing in it. She is an Oscar-caliber actress and it's her turn. The others will have other chances. Update: Well, I could not have been more wrong. As IndieWire stated, Best Actress Winner Olivia Colman Is Just as Shocked as You Are that She Won.
Albert Finney. Wow. A Mancunian of Irish extraction who seemingly had no use for anything fancy. Nominated for an Oscar five times, he never attended a ceremony, and he refused the knighthood. And my goodness, what a handsome devil.
Lastly, let's not take it all overly seriously. It's important to recognize excellence in an essential art form, no doubt, but remember, they give out the awards in a mall.
This post is part of the 31 Days of Oscar Blogathon. I've had seven delightful years hosting with Kellee at Outspoken & Freckledand Aurora at Once Upon A Screen. Check out the other posts here.